GMOS Case Study Wind - MDL
GMOS Wind Case Study: February 7, 2008
Several gridded MOS users have sent us examples of strange areas of convergence and divergence in the gridded MOS wind fields. In order to fully investigate these cases, we examined the effects of two gridded MOS control settings:

1) A special smoother built for coastlines, and
2) Cycle averaging (the current analysis scheme averages the current cycle with the cycle from 12 hours previous, at a 1 to 1 ratio)*

More details are provided below.

*Only raw (unaveraged) cycles are averaged together, so this is not a recursive process.
Example 1: 20080207 12z GFS GMOS @ 141 Hours
Valid at 09z on February 13th, 2008
Images for Comparison (click for a larger image)
Example 2: 20080207 12z GFS GMOS @ 144 Hours
Valid at 12z on February 13th, 2008
Images for Comparison (click for a larger image)
Conclusions
After examining the above images, it appears that the cycle averaging was largely responsible for the wind forecasts in question. We propose turning off the cycle averaging feature for the wind speed and direction elements. This would make the following difference in the forecast fields:

Example 1
Current
Proposed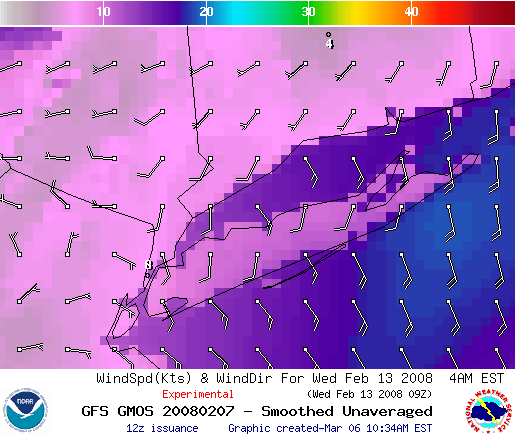 Example 2:
Current
Proposed