Gridded MOS - MDL
Attention users: Dissemination of all Gridded Model Output Statistics (GMOS) products is planned to be terminated on or about Tuesday, November 5, 2019, after the 1200 UTC model cycle time. More information can be found at Service Change Notification 19-28
Gridded MOS is an expansion of the Model Output Statistics technique used to improve numerical model forecasts by relating model outputs to observations via statistical methods. In Gridded MOS, MOS output calculated for meteorological ground station locations (see: GFS MOS,NAM MOS) are applied to a grid, such as that used by the National Digital Forecast Database. In the case of MDL, this application is done using a Bergthorssen-Doos-Cressman analysis technique, modified by Glahn. (See the Training References below for papers and presentations which discuss the development of GMOS in more detail.)
For more in-depth discussion of MOS, the following are good places to start:
GMOS Products
Product Format Information and Documentation
Element and Projection Documentation
GMOS WMO Headers
GRIB Encoding Information
---
Additional Training References
Additional Presentations
Additional Papers
Operational (and Transitional) Products
Operational products are fully supported by NWS and are produced on a regular schedule by NCEP Central Operations.
GFS GMOS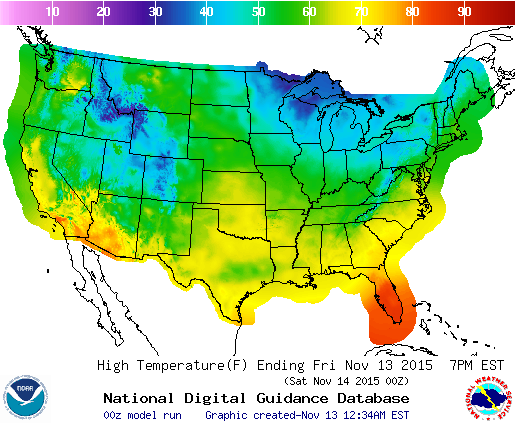 Experimental Products
Experimental products are still in development. They are produced and supported by the developers. These products may not be produced on a regular schedule. Comments and Suggestions are always welcome.